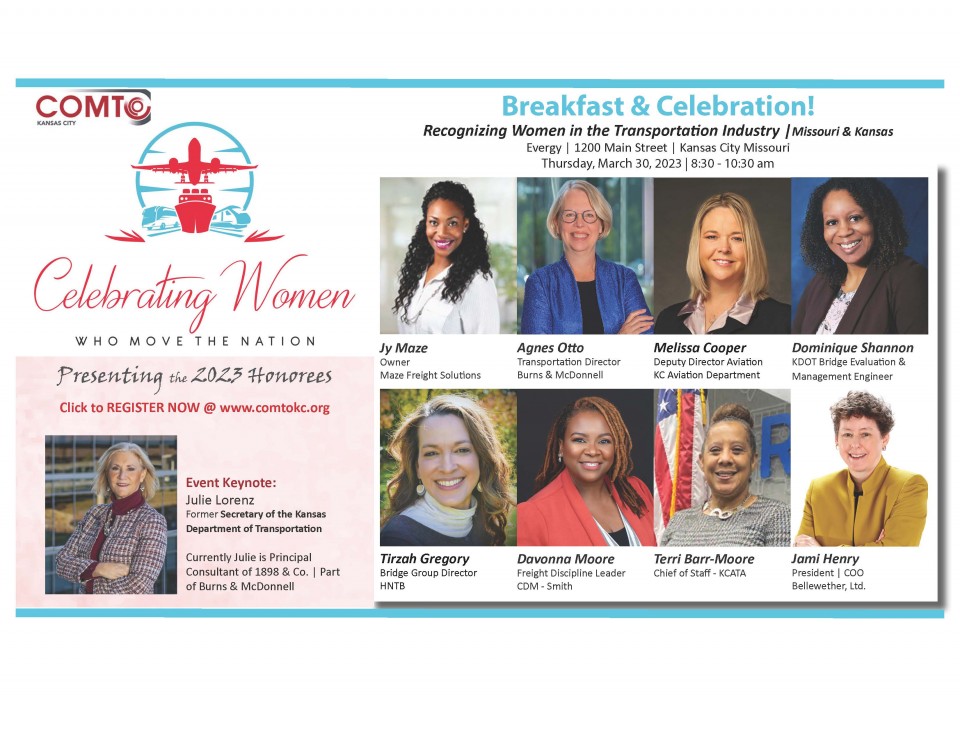 Jami Henry, the President and COO of Bellewether, was selected as one of eight "Women Who Move the Nation" in Kansas City by the Conference of Minority Transportation Officials (COMTO).
COMTO is a leading national advocate for diversity and inclusion in the transportation industry. Through its 37 chapters, COMTO represents more than 3 million minorities in the United States and Canada who work in all modes of the transportation industry. From highways and roads to mass transit systems, from subways to rail systems, and from port authorities to airports, COMTO members represent every facet of the transportation industry. Its members are individuals, students, transportation agencies, corporations, academic institutions, industry non-profits, and Historically Underutilized Businesses (HUBs).
The Kansas City chapter of COMTO will celebrate eight women who have significantly furthered this mission at a breakfast on March 30, 2023. "I'm so honored to be chosen," Jami said. "I consider it such a privilege to work with transportation professionals in support of their supplier diversity initiatives, including federal DBE Supportive Services through MoDOT."
Bellewether has an ongoing contract with the Missouri Department of Transportation (MoDOT) to work with Disadvantaged Business Enterprises (DBEs) to strengthen their abilities and capacities. Jami and her team have spent decades and worked with hundreds of company owners–both in the Kansas City area and across the nation–to advance their business goals.
Bellewether engages with large transportation industry companies to help them assess the current level of performance of their vendors and create supplier development programming that closes gaps and improves vendor capacity and efficiency. Bellewether uses its proprietary FLITER® system to assess and numerically evaluate vendors across 12 business dimensions. These outcomes identify specific action steps to help them measurably "level up" across each dimension.
"Transportation consulting is one of the most important and rewarding things we do here at Bellewether," Jami said. "The trillion-dollar transportation industry moves fast, and it's so important to ensure equity and access to the industry, both in Kansas City and across the country."
Jami will be honored for her work through Bellewether at a COMTO breakfast–you can find details about the event or purchase tickets here. Also, to learn more about Bellewether's transportation consulting services, click here or get in touch with us today!