Innovation has always been a critical component of the growth of any economy. While most people think of innovation as the latest high-tech gadget, process innovation can have a bigger impact than any technology.
Bellewether Global, a consultancy service for companies to improve their work performance and flow, has been working with the Missouri Department of Transportation (MoDOT) and dozens of other large public and private companies to transform their supply chains. They are transforming through process and education.
An example of this type of supply chain innovation is the work Bellewether is doing with MoDOT. Three years ago, MoDOT awarded Bellewether with the contract to provide Supportive Services to DBEs in Western Missouri. The goal of the MoDOT Supportive Services contract is to assist DBE (Disadvantaged Business Enterprise) firms to build stronger, sustainable businesses so that they can compete successfully in the marketplace. Ultimately, it is to provide opportunities to small businesses owned and operated by disadvantaged individuals to participate in the economic benefits of highway construction.
The Triple Play DBE Networking Event that occurred on Monday, June 10, in Kansas City, is an example of the continued success of the partnership between MoDOT and Bellewether. The event was sponsored by the Missouri Department of Transportation (MoDOT), hosted by Bellewether Global, in collaboration with The Conference of Minority Transportation Officials (COMTO). It provided a fantastic opportunity for DBE firms to network with local government officials, large contracting Primes and other DBE firms. People came from as far away as Joplin and Columbia to participate.
"Working with MoDOT to transform their supply chain has been a tremendous success. Over the past 3 years, we have set the goal of improving business operations for executives who have taken advantage of the supportive service offerings. We look forward to continued work with MoDOT suppliers to reinforce the culture of excellence and continuous improvement."
In their welcoming remarks, Kay Saunders and Jami Henry, founder/CEO and President respectively, of Bellewether Global, invited attendees to mingle and grow their networks by meeting new people and making connections–which they did!
A featured speaker was Lester Woods, External Civil Rights Director of the Missouri Department of Transportation, who oversees such programs as DBE, Contract Compliance, On the Job Training, and Title VI.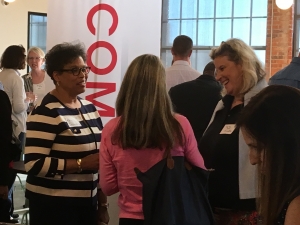 Mr. Woods emphasized the collaborative nature of the event as he spoke to the crowd: "This is about you. This is about making connections, building some relationships, getting to know people who you can do business with." He also informed the attendees that there will be a webinar this Friday, June 14, at 3 p.m., which will concern the DBE availability study that participants previously completed.
In addition to the networking opportunities, the evening was also highlighted by the delicious food catered by Palominos Mexican restaurant and desserts provided by Sweetooth Bakery. Teas and coffee topped off the fare, provided by Stewart Town Coffee.
Kay Saunders and Jami Henry at Bellewether enjoy hosting this event every year as an opportunity to further networking possibilities across various communities and to improve entrepreneurial relationships.

It was a productive and enjoyable occasion which provided a helpful reminder, as Jami Henry pointed out in her closing remarks, that "you never know when the next connection is going to be your most important connection."
If you are looking to transform your organization through supply chain diversity, change management, or diversity and inclusion strategy, please contact Bellewether at Bellewether.com or contact Kay Saunders or Jami Henry 816.554.9400.